How to schedule a presentation...
Top 10 Questions to Answer Before Contacting Ron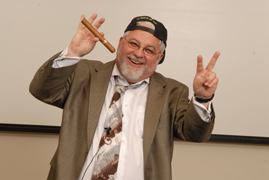 What is the purpose of the presentation?
What feeling do you want to create?
What is the length of the presentation?

1-2 hour keynote
2-3 hour workshop
full day (2 3-hour workshops)
3-credit course

Which abstract(s) did you select?
How many presentations do you want?

1
2 or 3 (1 per hour)
I need a calculator

What is the size of the audience?

S = 30-50
M = 51-100
L = 101-300
XL = 301-1000
XXL = Green Bay Packer Fans

What is the venue?

broom closet
classroom
auditorium
sports arena/stadium
Roman Coliseum

What is the desired format?

lecture
demonstrations
interactive
animal acts
none of the above

What is the desired style?

serious
motivational
moderately funny
hysterical
all of the above

What dates do you have available?

(Try to schedule 6-12 months in advance)
Provide a Demographic Profile of Audience Characteristics
(estimate percentages):
Professional Composition (faculty, administrators, staff, students, HR directors, trainers, managers, employees)–
Gender–
Ethnicity–
Nationality–
Age Range–
Fulltime/Parttime–
Disciples Represented–
| | |
| --- | --- |
| | Contact |
Ronald A. Berk, PhD
Professor Emeritus
Biostatistics and Measurement
The Johns Hopkins University
Address
10326 Hickory Ridge Rd., Apt. 618
Columbia, Maryland 21044
Office: (410) 940-7118
Email
rberk1@jhu.edu
Networks
Contact Ron at any of the networks sites below:





Sign Into Ron's Guestbook!
Let Ron know that you've visited by filling out the form below. You will receive the new prescription (FDA approval pending): MIRTHIUM II, which summarizes 100+ studies on humor and laughter over the past half century. It's not yet available on Walmart's prescription list. Ron promises that your information will not be sold to the highest bidder...