Coaching
| | | |
| --- | --- | --- |
| Please answer each of the following questions: | Yes | No |
| 1. When you tell a joke, do your students throw vegetables at you? | ___ | ___ |
| 2. Can the timing of your delivery use some tweaking? | ___ | ___ |
| 3. Are the stories you tell too long? | ___ | ___ |
| 4. Could your multiple-choice or top-10 lists be improved? | ___ | ___ |
| 5. Do you need to punch up your presentations? | ___ | ___ |
If you answered YES to any of the above, you're in deep trouble. Not really. You just need someone to critique your delivery or material. I could be that someone. Yup, that's what I do.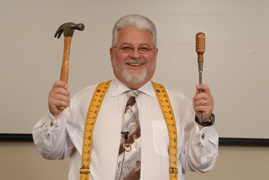 At-Home or In-Office Humor Delivery via
telephone
face-to-face
e-mail
fax
hand delivery
I'll live in your guest room
Imagine: Your own personal humor coach for
short-term
long-term
life-term
SET UP YOUR APPOINTMENT
NOW!
DON'T WAIT 'TIL I GET BUSY!
e-mail: rberk@son.jhmi.edu
| | |
| --- | --- |
| | Contact |
Ronald A. Berk, PhD
Professor Emeritus
Biostatistics and Measurement
The Johns Hopkins University
Address
10326 Hickory Ridge Rd., Apt. 618
Columbia, Maryland 21044
Office: (410) 940-7118
Email
rberk1@jhu.edu
Networks
Contact Ron at any of the networks sites below:





Sign Into Ron's Guestbook!
Let Ron know that you've visited by filling out the form below. You will receive the new prescription (FDA approval pending): MIRTHIUM II, which summarizes 100+ studies on humor and laughter over the past half century. It's not yet available on Walmart's prescription list. Ron promises that your information will not be sold to the highest bidder...